Prmal Chico
11.5"x11.5"x18"
Undivided back of Primal Chico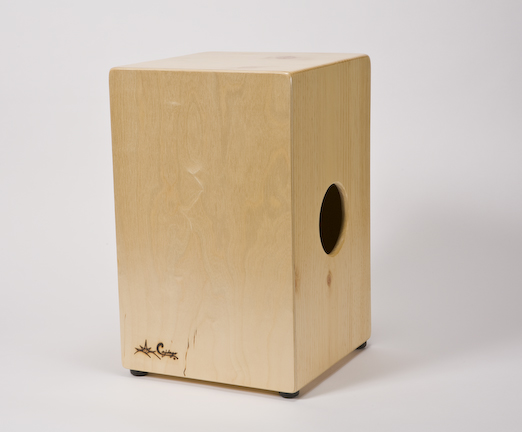 The Cajongo TM "Primal" line of cajons are made of 1/2" thick sugar pine from certified sustainable California forestry.

The "Primal" series cajons have the unique trade mark divided face of the "Cajongo" TM cajon. The flat undivided back can be played as a traditional cajon. The "Primals" have the original unique innovative two chamber design providing a variety of pitch & tone across the divided face like no other cajon. Stereo ports are another Cajongo TM innovation along with the chambered shell , divided face and duel playing surfaces.

The Primal "Ninos", "Chico", "Artista" , "OM Grand" , "La Montana" & the newest in the line , La Montana Arch Back all come standard with a removable exchangable snare fixtures; another unique innovation in the "Cajongo"TM line of musical instruments & accessories for the artist looking for new "Color" for his palette. "Hand made to be hand played."


Click for sample of the "Chico"
Primal Artista
14.5"x11.5"x18"
Undivided back of Primal Artista
Primal OM
17.5"x11.5"x18"
"Ninos" cajon

The "Ninos" cajon : 11"x11"x14" Pine shell unchambered , undivided face. One port in back & comes with a "Bare" snare fixture.
Don't let the size fool you, this cajon has good tone and teriffic punch. It is far from a "Toy" cajon. The Ninos has a tone quality that will satisfy and encourage a young player for years. Same quality construction as all the Cajongo ® line.
La Montana
14.5"x14"x20"
The "Primal" La Montana is certainly a mountain of a cajon. Measuring 14.5" x 14" x 20" it delivers tone galore! Stereo ported for excelent projection. The unique divided face has a tremendous warm open bottom end with everything in between, up to that treasured high crack. The La Montana comes loaded with a "Super Bare" snare fixture. The undivided back delivers a dryer, tighter tone with plenty of variation to act as your second cajon suiting your musical mood.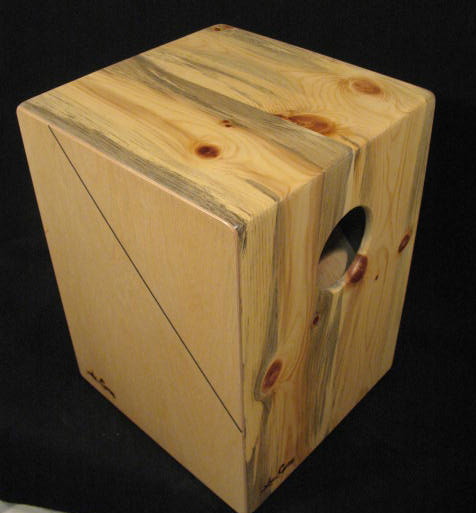 Primal La Montana with Natural Blue Stain Sugar Pine.
The Natural Blue Stain comes from a fungus that grows
in the wood either from a standing or fallen dead tree
often associated with the pine beetle or lumber sitting
too long before milling.
No worries! the fungus is dead after kiln drying, no harm to us folks.
Nature making things more beautiful.